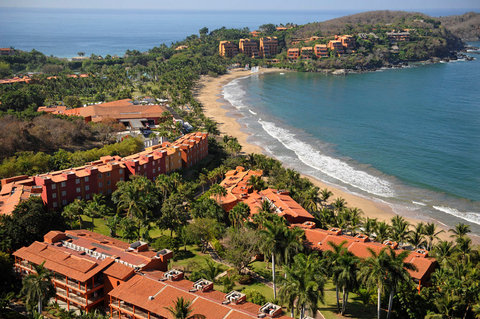 Ixtapa Mexico is an all-inclusive family resort between the Sierra Madre mountains and the shores of the blue Pacific Ocean not far from Acapulco. Being a Club Med resort there is plenty to do for the whole family and includes a fantastic Kids club from 4 months to 18 years.
All Inclusive

This resort is all-inclusive with 4 restaurants including an Argentinian Steakhouse and Kids Restaurant and also several bars with unlimited Beer, Wine and Soft Drinks. The All Inclusive offers the following
Room service for breakfast in the Suites
Breakfast, lunch, dinner and anytime snacks
Choice of outstanding gourmet restaurants with a selection of exquisite and lavish buffet spreads
Unlimited premium drinks and snacks throughout the day with a large selection of sodas, juices, cocktails and signature drinks
Accommodation
The resort offers 298 rooms including 15 fantastic family suites including Flat screen TV's and Internet access.
Kids Clubs
Baby Club Med (4 months to 2 years)
Your babies will be taken care in total security by our dedicated and professional GO's.Personalized welcome, after breakfast with your family, activities, meals, siesta, cuddles:the Baby Club Med® program conciles gentleness and security and respect of each child's biological rhythm. From 6.30pm, the Baby restaurant welcomes babies and their parents to enjoy dinner together.
Petit Club Med (2 to 4 years)
At this age, we are no longer a baby, but we still need to be closely monitored. It's the time for those first discoveries: the leisure of waking, walking and outdoor play, a full and balanced lunch (especially designed for the needs of the young), a nap or quiet time, creative activities and of course, snack time, a true feast for those with a sweet tooth!
The activities follow the progress of children, split into age groups. From 7.30 pm, after dinner with parents, children return to the Petit Club Med®. While the parents have a peaceful dinner, the young ones finish their day with a calm evening.
Mini Club Med (4 to 11 years)
Create and let off steam. At this age, children have a thirst for everything… The Mini Club Med® has planned everything to respond to this need of discovery in all directions. Sports, fun and creative activities and much more.A full day of activities and fun perfectly adapted to their needs and wants. Children are split into sub-groups according to their age. One hour shower stop before dinner.
Junior Club Med (11 to 18 years)
Teens, autonomy and festivities. During school vacations, it is one of Club Med's classics for teens, they are separated into two age groups. Club Med proposes everything but imposes nothing.A real state of mind that the tweens and teens love. Junior's Club Med offers them a place to meet and take part in the resort activities as they wish.
Kids Services
Also this resort offers the following especially for the Kids.
Baby Restaurant
Baby Feeding Room
Baby Sitting
Playgrounds
Pyjamas Club
Kids Restaurant
Teen Spa
Baby Gym
Petit Sports (Football, Golf, Tennis)
So why not discover the wonders of Mexico by staying at Ixtapa Pacific. Family flights to Mexico and the USA are available from Expedia..