Aggie Grey's Lagoon beach resort in Samoa is the perfect place to take your next family holiday. The resort is set in 50 acres of tropical gardens on a stretch of white sand beach with a blue turquoise lagoon. The resort has 140 Ocean View Family Rooms , 5 restaurants and three bars
Features
140 Ocean View Rooms
Watersports
Lagoon Pool
Kids Club
Gym and Tennis
Sauna and Spa
Accommodation
Each of the 140 Deluxe Ocean View Rooms is spacious and comfortable, and positioned for the best views of the white sand beach and sparkling blue lagoon. Relax, kick off your shoes, and take in the gorgeous ocean vista punctuated by the islands of Savaii, Apolima and Manono.
Each room is air-conditioned and sleeps up to 4 guests. For those with larger families the resort also offers interconnecting rooms. Complimentary bottled water is supplied on arrival and for those that don't want to venture further afield, 24hr room service is available and in-room video channels provide 24/7 entertainment for all the family.
Aggie's Lagoon Pool
A wonderful way to spend a day. A swim up pool bar provides refreshing drinks, and there are plenty of shaded loungers around the pool to relax and take in the magnificent scenery or linger over a snack. The large pool allows plenty of space for everyone to enjoy a dip and an adjacent children's pool provides hours of fun for the young ones. There are regular events and activities in or around our beautiful Lagoon Pool.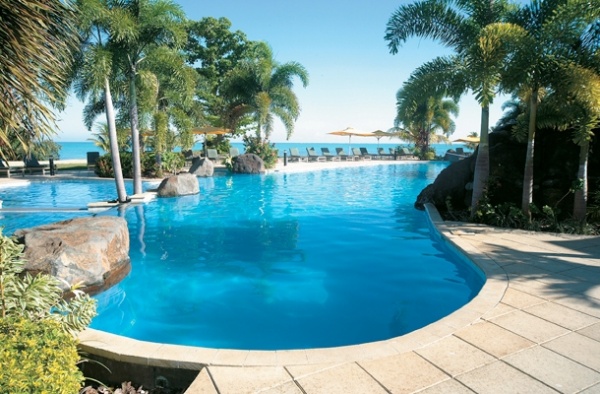 Dolphin Kids Club
A tropical holiday in beautiful Samoa should be the ultimate in relaxation. So to help you relax, the fun Dolphin Kids Club will look after your little ones for FREE