The Gold Coast is home to Australia's best Theme Parks including  Seaworld, Warner Bros Movie World and Dreamworld which is often the first stop for most families visiting Queensland.
Dreamworld is Australia's largest theme park with 4 roller coasters and 27 rides and also has a fantastic water park next door called WhiteWater World.
The park contains several themed areas including Kids World, Wiggles World, Tiger Island, Rocky Hollow, Ocean Parade and the Australian Wildlife Experience
Kids World
This section is for slightly older kids and includes a lot of rides, roller coasters and activities, my kids were too young for these but they all seemed quite popular. This area used to contain a lot of  Nickelodeon rides but these have now changed names.
Wiggles World
All young kids love the wiggles (even with Sam being kicked out recently) and they will absolutely love Wiggles World including Dorothy's rosy tea-cup ride, The Big Red Car and will play for hours on the SS Feathersword. Wiggles characters like Wags, Dorothy Henry the Octopus and others regularly walk around the area for photo opportunities.
Tiger Island
This is considered to be Dreamworld's wildest attraction where you can watch Bengal and Sumatran tigers play and swim with their handler's everyday.
Rocky Hollow
This area has the Dreamworld railroad, log ride and The Giant Drop. Older kids and parents will love The Giant Drop which basically takes you up a 120 metre tower for a fantastic view and then drops you back to the ground in about 5 seconds.
Ocean Parade
This section of the park contains a lot of beach and water related themes and rides including The Claw, Cyclone and Wipeout and is also an area for older kids.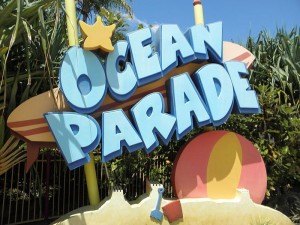 Australian Wildlife Experience
This part of the park has hundreds of native animals including the usual Koalas,  Wombats and Kangaroos. It also contains crocodiles, snakes and other scary stuff that kids love.
Dreamworld offers something for the whole family for toddlers through to Teenagers, Parents will also have a ball on some of the amazing rides. Dare you to try the Big 7 thrill rides consisting of Buzzsaw, Motocoaster, The Giant Drop, Tower of Terror 2, The Claw, Wipeout and The Cyclone.
Tickets to Dreamworld are available from only 79.99 and can be bought online.