Sea Adventure Resort & Waterpark invites you to days of complete amusement. With new fantastic features such as a water park and a mini golf course, this incredible, enhanced family resort is a synonym with a funpacked and relaxing experience. Whether traveling with your kids, friends or with your partner, it offers exciting activities for children and fun events for adults so that every one can have the time of their lives.
Cancun's most welcoming all-inclusive hotel, Sea Adventure Resort & Waterpark will surround you with true Mexican hospitality as soon as you enter the grand lobby where you will be greeted with smiles of the resort's
friendly staff. Every room at Sea Adventure Resort & Waterpark is spacious and bright. In two categories -Superior and Junior Suite, all of them are decorated in a contemporary style, with a traditional Mexican flare, and appointed with balcony or terrace for a lovely ocean or garden view. Throughout the day complimentary drinks such as beer, sodas, and fruit smoothies can be enjoyed. You can always find a sumptuous snack or mouthwatering meal to feast on in one of the resort's themed restaurants and bars. Besides the newest water park of Cancun, Sea Adventure Resort boasts more than 1000 feet of powdery, white-sand beachfront. In addition, this all inclusive hotel offers large pools, children's swimming areas, shaded palapas and lounges. As the sun sets, the pool area bursts with activities for you to socialize at the expansive deck. Sip cocktails, listen to music and admire the
magnificent backdrop of Cancun's largest marina. For those wishing to take a twilight plunge, they can swim into the giant pool or relax in one of the jacuzzis.
Enjoy an oasis of family fun on your Cancun vacation, only at Sea Adventure Resort & Waterpark.
Accommodation
Staying at Sea Adventure Resort means getting an automatic pass to the fun that the water park is all about. With a choice of either a Superior room or a Junior Suite, you will find a relaxing space where to rest after a gratifying day of exciting activities. Every room is spacious and bright, decorated in a contemporary style with a traditional Mexican flair. All of them provide a balcony or terrace from which you can admire either the lovely ocean or the hotel's garden. Junior Suites have an additional area with a sunken living room.
Choosing between a king bed and two double beds, we can accommodate up to two adults and three children per guestroom. Each large, private bathroom is equipped with a bathtub/shower combination, and every room offers individually controlled air conditioning; ceiling fan; satellite TV; direct-dial phone; message and wake up call system; luxurious amenities; coffee maker; hair dryer; iron, ironing board, and safety deposit boxes at a nominal fee in some cases. Cribs are available upon request. The resort is non-smoking in all guest rooms, public indoor spaces and dining areas.
Superior Room
While offering you an automatic pass to enjoy the new waterpark and its attractions such as water slides and other fun rides, The Superior Room of Sea Adventure Resort & Waterpark surrounds you with a harmonious environment thanks to its large, warm and cozy spaces. Decorated in a contemporary style, this type of room in the family resort has beautiful textures where you can appreciate the artistic details and Mexico's traditional architecture that contrast with the modern flair of this resort in Cancun. Apart from all the facilities that the all-inclusive hotel has stored for you and your family, your Superior room features satellite TV, coffee maker,
air conditioning, and shower. A balcony or terrace will let you admire the garden or pool of the hotel.
Junior Suite
Welcoming you to the new water park and its attractions: water slides, waterfalls and other fun rides, the Junior Suite of Sea Adventure Resort & Waterpark offers comfortable, beautiful spaces where, resting after a fun day of activities at the family resort, is effortless. The warmth of its decoration in a contemporary style will let you appreciate every detail that, evoking traditional shades and textures of Mexico, results in a roomy suite full of harmony and light. Besides a cozy living room, the Junior Suite puts at your disposal the all inclusive resort services and excellent room amenities such as satellite television, coffee maker, hair dryer, and several more to make your stay an unforgettable occasion. From the privacy of your balcony or terrace, delight in the pristine beauty of the blue turquoise ocean view and the caressing sea breeze that will provide you with moments of true relaxation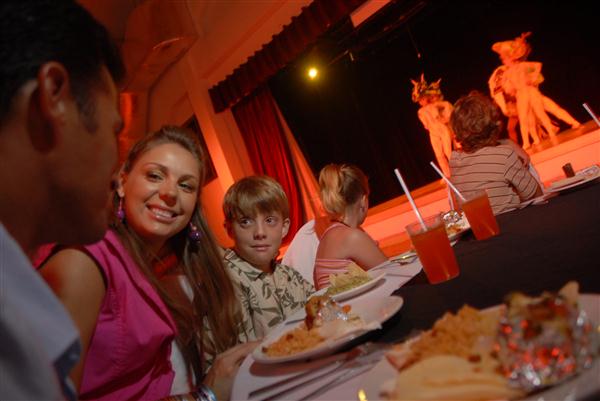 All Inclusive Features
Automatic access to Sea Adventure Waterpark
65 Superior room and 90 Junior Suite accommodations
All meals (breakfast buffet, daytime and late night snacks, lunch and dinner) and dining at 2 specialty restaurants.
24-Hour food and beverage program
Quality alcoholic and non-alcoholic beverages
Daily activity program for adults and children
Nightly entertainment and weekly live shows
Non-motorized water sports
One lighted tennis, basketball and volleyball court plus a soccer field.
Indoor and outdoor "Kid's Club"
Waterpark
A 40ft/12m multi level structure named the Tree House provides access to a set of four exciting water slides that, varying in size and amusement characteristics, run into the 2657 square ft / 810 m2 plunge pool. Either
sliding down through the greatest tunnels or the spiral and rapid ones, the Tree House offers a perfect adventure for the teenagers. Decorated with symbolic animals of the region, this platform also has an enormous bucket of
water that squirts 7 ft/ 2m of water, creating an amazing waterfall for everybody to have a blast. The Tree House is suitable for children older than 8 years and the supervision of an adult is recommended.
Conveniently located a few steps away from the Tree House, the Water Mirror Little Adventure, with 1ft/ 30 cm of depth, appears as the section designed for the little ones in mind. With interactive games such as: squirts of
water, little mushrooms and waterfalls, it represents a safe space for the kids below 8 years old to have their fun. However, children must be accompanied by an adult in order to enter the Water Mirror Little Adventure.
The grown ups will find a relaxing wet bar where they can enjoy a margarita while watching their kids play. Likewise, Sea Adventure Waterpark includes a giant Palapa where a snack bar offers you refreshments and a light meal.