Who says you can't travel anymore when you have kids, or you have to wait until the kids are a bit older? Let's admit it, the wanderlust in us always yearns for the island beyond the border, and having little ones in tow won't be able to stop us! Who wouldn't love a relaxing time in the warm sunny Bali Island? In fact, with careful planning, you can avoid spending hours worrying about the kids.
There are a lot of things for kids to do in Bali.  Accommodation options are aplenty, but you will need to know which one is suitable for families. Rest assured, we've created an essential checklist of what to look for in a family-friendly villa in Bali.
Must-have features:
Pool fence
Stair gates
Closed stairway
These are essential safety features for a family villa. If you choose a villa with multiple storeys, make sure that the stairway is safe and that it's possible to install a stair gate if you need. If you need a pool fence, you can contact the service provider directly. They will come to the villa to take measurements and give you the exact quotation.
Typically, pool fences in Bali are made from bamboo, but if you need a metal fence or net style fence, there are also companies who provide that.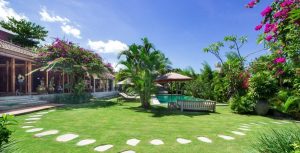 If you are travelling with babies:
Baby cots
High chairs
Car seats
These may not always be included in the rate, but a family villa must have these available.
If you are travelling with young children:
Kids' bedroom: Usually, kids' bedrooms come with bunk beds, but there are also villas with single beds and child furniture.
Kids' bedroom attached or connected to the master bedroom: Many villas in Bali has bedrooms as stand-alone bungalows, which is not ideal when you have young children. Instead, look for one with kids' room linked to the master bedroom via an internal path or door. Otherwise, there are also villas with bedrooms next to one another in the same building.
Plastic cutlery: If you plan to dine in and the kids are still practising using cutlery, then you can check with the villa if they have plastic ones to avoid bring additional items.
Enclosed living area: This is up to personal preference. An enclosed living area provides a better sense of security. However, it's really up to your own preference.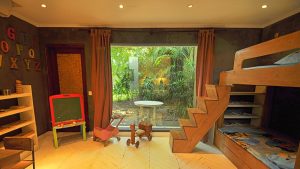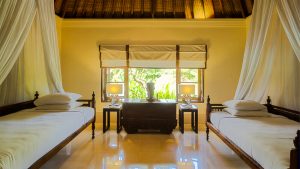 Other features:
Services
Daily breakfast: Finding a place for breakfast can be a hassle if you don't have a list of kids-friendly restaurants at hand. Therefore, a villa with daily breakfast option will help you start the day right.
Kids' meal: With an in-house chef, you can also ensure that the food does not contain anything you child can't eat.
Laundry services: You won't have to worry about dirty clothes, foul smell, stains or having to pack extra clothes for the kids.
Car & driver: Sometimes, it may be hard to catch a taxi in Bali, so having a car always comes in handy. Plus, you can also have car seats if you travel with babies.
Babysitting services: You can always ask the villa manager to help you hire one, or check out Bali Nanny Club
Facilities:
Shallow pool / Wading pool for kids and inflatable toys
Entertainment: This varies across villas. Some come with a dedicated media room with home cinema, some are equipped with TV and DVD players, billiard table, tennis courts, board games, toys and books. Some villas also provide complementary access to Canggu Club.
Lawn, yard, playground, treehouse: If your kids love to run around, a villa with a big yard will definitely make them happy.
Location:
Whether you go to the tourist hotspots like Seminyak, Ubud and Canggu or to off-the-beaten-path locations like Candidasa or Lovina, it's better to stay around the centre of the town where you have easy access to restaurants, cafes, supermarkets and convenience stores.
Additional information:
Whatever you need to make your stay stress-free, there are companies like Bali Villa Related Services which provides that. You can rent from pool fence to toys, prams, car seats to baby bath tubs.
Alternatively, there are companies which specialise in Bali villas rental such as Villa-Bali.com. They know exactly which villa fits the bill, and also provide complementary services. They can take over and arrange everything for you. Easy-Peasy!
Images credit: Villa-Bali.com